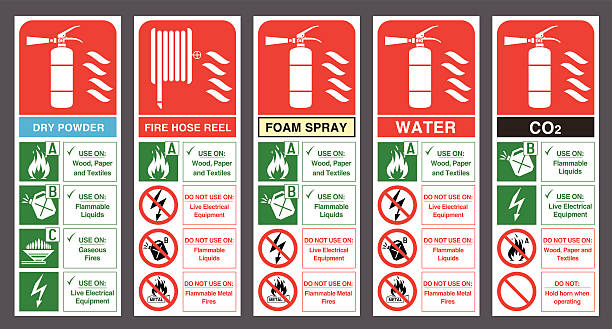 Fire Fighting Labels in UAE | Ribbon House Middle East LLC
---
Ribbon House Middle East LLC Provides the best fire fighting label identification system for building that will improve the safety of your buildings. From fire fighting equipment labels, dry riser identification labels, fire exit signs, sprinkler identification labels, wet riser identification labels, fire door signs, fire safety signs, fire action signs, fire equipment signs, fire instruction signs, fire assembly signs, fire extinguisher signs to underground warning tapes.
We have the expertise and products to offer all buildings with safety and caution by our fire fighting label identification system. Our range of signs are designed to meet current fire safety regulations as per government of uae. Our fire fighting marking tapes and labels helps you to quickly understand and communicate what a pipe contains and make it easy and cost effective to label your pipes and stay OSHA/ANSI/ASME/BS standard compliant.
Our range of fire fighting label identification system in uae
Fire Exit Signs
Fire Equipment Signs
Fire Door Signs
Fire Refuge Signs
Fire Action Signs
Fire Assembly Signs
Fire Instruction Signs
Fire Extinguisher ID's Signs
Fire fighting equipment signs
Benefits of fire fighting Labels
There are some benefits of using a fire fighting label. They have been used by facilities for generations, which obviously shows that they are good, at least for certain things. The following are a few of the advantages of going this route.
Meeting Standards – When you buy a fire fighting label from ribbon house middle east LLC, you can be confident that you will be meeting the standards from regulatory organizations. If you need something very specific, this may be the lower risk option.
No Added Training – You don't need to train anyone on how to use an industrial label printer. Just order the pipe labels that you need, and when they arrive, you will be all set.
For Ordering customized fire fighting Labels or queries you can reach using below contact details
Call Us: +971 50 141 2481 For your queries !
---
Date: 15 November 2022 Comments: 0
---
There are no comments yet
Leave A Comment